Doing a first look on your wedding day can be controversial, but I think there are probably countless reasons that you should consider having a first look on your wedding day, I'm just going to list in this post what I think are the top reasons.
1. A private moment alone to calm your nerves.
In my personal opinion, this is probably the most important reason to do a first look on your wedding day. You get a chance to be alone, just the two of you, and soak in the fact that you are getting to marry your best friend and dang, do they look hot!
In all seriousness, it can be really hard to have that first moment of the rest of your life be watched by pretty much everyone you know. Your first look can be completely private, which allows you to enjoy that moment without that added pressure.
A first look is also a great time to exchange a private gift with your fiance or say private vows that you'd rather not say in front of everyone you know. Jessica and Steven, in the above photo, wrote private letters to each other that they read before they turned around to see one another for the first time. It was such a beautiful, intimate moment.
2. More photos and a more relaxed timeline.
By doing a first look you have SO MUCH MORE control over your timeline, and we can get so many of your photos done BEFORE your ceremony. Let me explain.

With a more traditional timeline, the couple sees each other for the first time at the ceremony. This means that the pre-ceremony photos are limited since the couple can't see each other. So after the ceremony, and before the reception, you have to fit in almost ALL of your photos. Family formals, wedding party formals, and couples portraits have to all be squeezed into the hour to an hour and a half after your ceremony.
Now, I'm not gonna lie to you. That is completely doable and has been done many, many times before. But you will have no time to spend with your guests at your own cocktail hour. You'll miss out on a huge part of your day because we will be hustling to get all of your photos done. And if anything runs behind schedule, we won't really have a whole lot of daylight left to make up that time.
If you choose to do a first look, almost as soon as the couple is dressed we can head out to take your photos. You'll have all kinds of time to take images all around your venue, get to truly enjoy a few minutes, essentially alone, in one another's company, and you'll get to enjoy almost all of your cocktail hour with your family and friends. This brings me to my next point.
Amanda and Nathan, in the photo below, had one of the most beautiful first looks I've ever had the privilege to witness. And afterward, they had so much time to just hang out together and with their best friends. This is a photo of them riding the trolley with their whole wedding party down to their ceremony.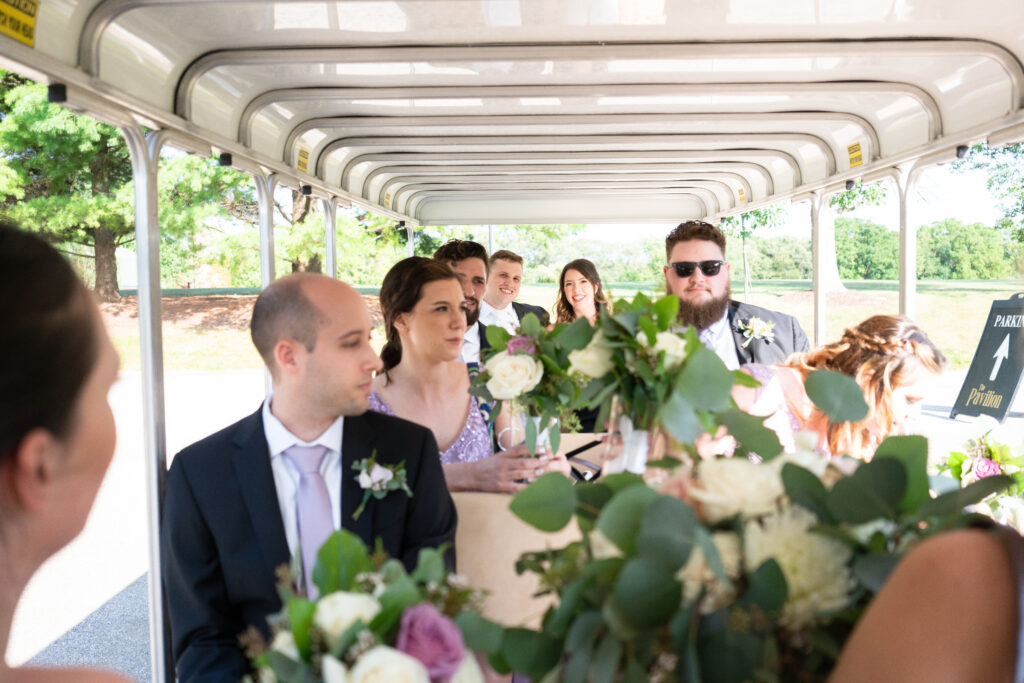 3. A better guest experience.
I would be willing to bet that your mom, your dad, maybe your aunt or your uncle, have spent a LOT of time helping you get ready for this day! Wouldn't it be nice to spend time on your actual wedding day spending time with those folks? Enjoying a beverage during cocktail hour? Telling jokes and reminiscing about your childhood and what a crazy kid you were? What about your grandmother, who probably might not stay for the whole reception? Wouldn't Grandma love to get 10 minutes of your undivided attention on your wedding day?

Doing a first look allows you to spend more time with your guests who took time out of their lives to be there for your big day. And of course they would do it regardless. They love you! Every single person who comes to your wedding comes because they love you. So wouldn't it be great to have as much time as possible with all of those people?
Doing a first look allows you to spend time taking photos when your guests aren't there, so you can enjoy them while they are there.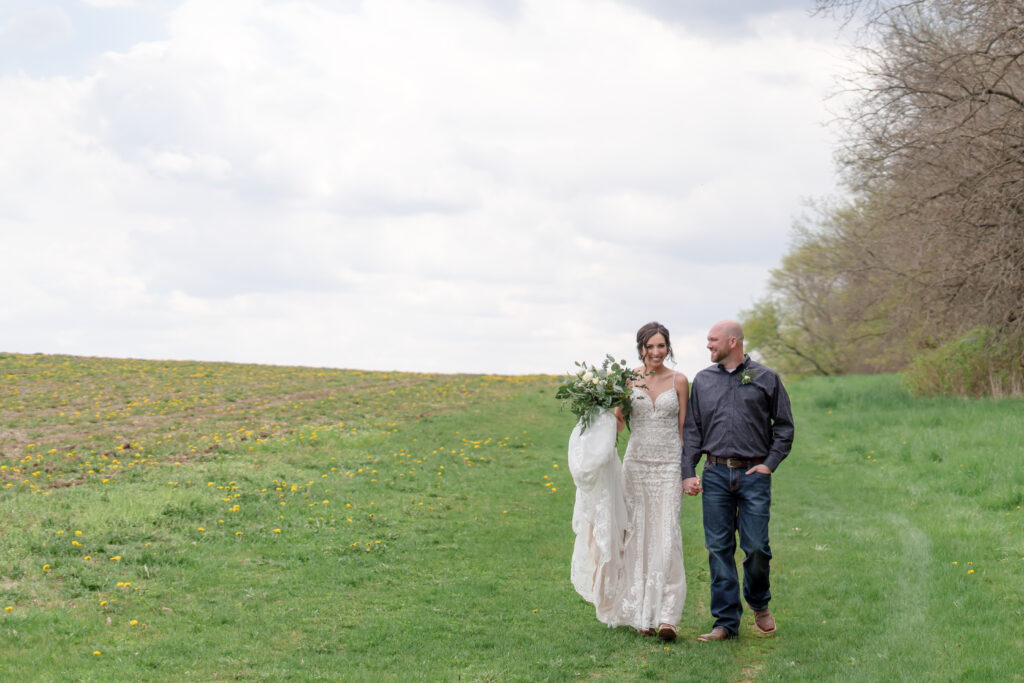 4. Perfect lighting and location means I can get the perfect shot.
As the photographer, this is my personal number 1 reason for you to do a first look.
So often a ceremony location is beautiful, but the sun is the exact wrong place for me to take the absolutely perfect first look photo that I want to take for you.
And again, don't get me wrong. Every venue I have ever been to puts their ceremony location in the most beautiful place on the property, so you're guaranteed to get beautiful images of your ceremony. But what if the sun is shining on your fiance's face as you walk down the aisle? They only really face that way for a moment, but that moment is pivotal, and if the sun is in the wrong place, that shot isn't going to be everything you've dreamed of.
For the above photo, Sarah and Keegan's ceremony location was in FULL SUN when it was time to start photos, and the afternoon threatened rain. We needed to start taking photos right away before the potential rain came. We hiked all the way across a field to take these photos, but it meant that they had perfect lighting for their first look, and it had the added benefit of being completely private.
Worse, what if it suddenly clouds over? What if it starts raining and you're getting married outside? What if the wind blows your veil and your hair and you look a mess?

My point here is that the ceremony is a moment that we don't have a whole lot of control over. With a first look, I am going to hunt all-around your venue, and I am going to find the PERFECT spot. The spot with perfect lighting. The spot that can be completely private. The spot where I can stand, and potentially a second shooter can stand, and we won't be in any of the photos.
And then you'll get that perfect shot of your fiance seeing you for the first time that you've always dreamed of. You'll be happy, and I'll be happy.
5. Hair, makeup, florals, and dress are still fresh.
Very rarely do we get weddings with absolutely perfect weather. Sometimes it is raining. Sometimes it snows. Sometimes the sun is shining so brightly and so hotly that we can hardly bear to be outside and we are sweating in places we didn't know existed.

Especially on hot days, flowers, makeup, and hair all start to wilt in the heat and humidity. On cold days it can stress your flowers every time the temp changes. On wet days you might end up with mud on your shoes or on the hem of your dress.
It is almost impossible to avoid these things completely. But when you do a first look, we do it almost as soon as you are dressed and ready to go. Your hair and makeup are at their freshest, your clothes are still spotlessly clean, and your flowers are still fresh and vibrant. It means that you look your best in what are probably the most important photos of your day.
Bottom line, whether you choose to do a first look or not, you are going to get beautiful photos of your wedding. But you have a lot more control over your timeline, you get to spend more time with your guests, and ultimately you end up with more photos of your special day.